Silvia Neuteboom, Production Assistant/Sound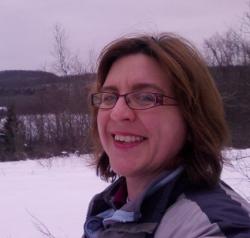 Silvia's first encounter with the world of TV and film was work-related: she helped colleagues create a DVD for radiation safety training. She then met STT Director of Photography, Amber Peters, at an open casting call for a locally-produced project, and was cast as a farmer's wife. By the end of the three weekend shoot, Silvia had moved from seamstress to wardrobe assistant to makeup and hair to set dresser to location manager to art director. After that much adventure, operating the sound boom for a short shoot at the Diefenbunker, and helping create an interpretive video for Canada's Cold War Museum, seemed like a relaxing afternoon.
Having realized from these experiences that film sets were quite a bit more interesting than her day job, Silvia was delighted to be asked to 'pitch in' on Sweettarts Takeaway. For now, she is still learning – everything! – about film production, and hopes to continue.