Glen "Skip" Sansome, Petit Bill's Bistro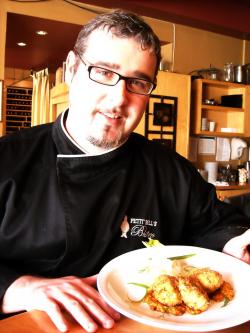 Chef Glen "Skip" Sansome was born in Newfoundland, but grew up in Sarnia, Ontario. He started his career working in fine dining establishments in Sarnia before moving to Toronto where he spent 13 years as a chef.
A self-described "Newfy", Sansome specializes in seafood, combining French cusine with a Newfoundland twist. Arriving in Ottawa three years ago, he came upon Petit Bill's Bistro, where Sansome's culinary approach meshed perfectly with co-owners Randy and Terry Fitzpatrick's food philosophy. He has been there ever since.
The Petit Bill's Bistro is named in honour of the co-owners' father, "Little Bill" Fitzpatrick. The Bistro grew out of the family values and sense of everyday "down-home" hospitality Randy and Terry's mom & dad showed to anyone who came their way. Petit Bill's offers a unique menu marrying fine French food with "down home" comfort, "speaking French with a Newfy Accent," if you will. They are proud to offer great comfort food, succulent steaks & fresh fish, and truly homemade desserts. They use only the finest ingredients available and utilize as much local produce and products possible.
The restaurant has won numerous awards for its wine list, including the VQA Award of Excellence in 2009 and 2010 for showcasing Ontario & VQA Wines on their lists.
They are pleased to share the recipe for a new item on their menu: Cod Tongue Croquettes.