Evan Welchner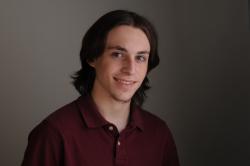 Evan Welchner's (Curtis) first look into the world of acting was at an open casting call for Blades of Glory in 2006, and since then he has acted in both movies and TV shows alike. Things really took off in 2009 when he was cast in Cartoon Gene, and then as a mute in My Family's Secret shortly after.
Evan's experience has not been limited to the screen, and in fact, has mostly revolved around theatre. He had lead dancing roles in High School Musical, The Wizard of Oz, Bye Bye Birdie, Beauty and the Beast and Oklahoma, followed by a lead role in Willy Wonka.
Being homeschooled his whole life has given Evan the opportunity to pursue a wide variety of interests, and find what he really loves, including computer programing, figure skating, guitar, break dancing, LARPing, singing, ballroom dancing, and of course, acting. Evan makes his first appearance in Episode 5.