Kate Drummond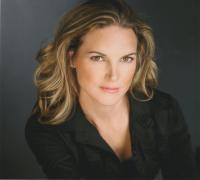 Kate is currently completing a performance-capture role as lead female, Anna Grimsdottir, in Ubisoft's internationally acclaimed video game franchise, Splinter Cell. She is ecstatic to be involved in this medium at the ground level and looks forward to a busy career in the gaming industry where she can combine both her love of acting and her competitive sports background. She has recently been connected with a campaign called Gamers for Sandy Hook, which is raising money for the PTA of Sandy Hook Elementary School.
2012 was a busy year for Kate with roles in the European feature film, The Informant, the season premiere of the hit television series, Being Human(3) and her supporting lead role in Muse Entertainment's newest miniseries, Cat. 8, working alongside Matthew Modine. All of these projects are scheduled to be released in early 2013. She also made her production and filmmaking debut with the launch of her own non-profit, reality cooking series, A Jock's Guide, which serves to bring awareness to her charity of choice, KidSport Ontario. Kate is currently on a press tour for the show, starting with 2 live segments on Daytime Ottawa.
Kate's love for acting grew rapidly while on many stages in Ottawa, and the onset of her successful film career followed shortly thereafter. She was cast in The Kate Logan Affair, working alongside Alexis Bledel of The Gilmore Girls, and directed by TIFF Winner, Noel Mitrani. From there, she was quickly cast in three TV features; Incendo's No Surrender, starring Mena Suvari of HBO's Six Feet Under, Lifetime's The Perfect Teacher, starring David Charvet of Melrose Place and Metal Tornado, featuring Lou Diamond Phillips. In the comedic realm, Kate has played a supporting lead role in Wingman, a Comedy Network pilot, and is a series lead in the webisodic, Sweet Tarts Takeaway, that was adapted into a one-hour feature and aired on CBC Television in the summer of 2011.
If you don't fast-forward through your commercial breaks, you'll also find Kate in the current televised ads: Bengay Zero Degrees (US National), McCain's Redskins (Canadian National), Revera (Canadian National) and Catelli Smart Pasta (Canadian National).
Kate is happiest when she is finding new ways to master her craft. Even with Bachelor degrees in Kinesiology and Education under her belt, she remains a dedicated, lifelong student constantly seeking opportunities to learn new skills and collaborate with other artists.
Kate currently splits her time between Montreal and Toronto. When she's not on set, she can likely be found in a class, yoga studio or talking to herself while walking her dog, Jackson.