Vegan Fudge Brownies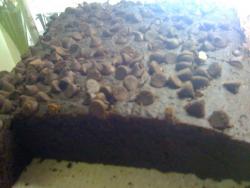 Like many people, when the Tarts think of Romance, they think chocolate. Auntie Loo's Treats (Ottawa's first 100% vegan bakery), provides the recipe for this dense, not-too-sweet brownie that will have you saying "I can't believe it's vegan!"
Ingredients
1 cup sugar
1/2 cup cocoa
1 1/4 cup flour
1 tsp baking soda
1 tsp vanilla
1 cup soft tofu (only use soft silken tofu! don't try to use firm!)
1/2 cup oil
1/2 cup water
1/4 cup chocolate chips
Method:
Mix together dry ingredients and set aside.
In blender or food processor, blend tofu, oil and water until smooth.
Add tofu mix to dry mix, add vanilla and stir gently until "just mixed".
Pour into parchment-lined 8 x 8 pan, sprinkle with chocolate chips and bake at 350 degrees for 25-30 minutes, or until toothpick comes out clean.