Lavender Shortbread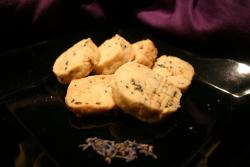 Janis knows that Sue's Lavender Shortbread not only tastes good, it's good for the soul.
From the kitchen of Erin Clatney, founder of DISH Catering, these rich but not too sweet shortbread cookies have a lovely lavender fragrance and flavour.
Ingredients
Butter, unsalted, room temperature - 3/4 Cup
White sugar - 1/4 Cup
All purpose flour - 1 Cup
Rice flour - 1/2 Cup
Salt - 1/4 Teaspoon
Vanilla extract - 1Teaspoon
Lavender, dried - 2 Tablespoons
Directions
1. Preheat Oven to 300F.
2. In a bowl/kitchen aid, beat the butter until fluffy.
3. Beat in the sugar until light and fluffy.
4. Sift together the salt, rice and all purpose flour. Add lavender. Add flour mixture to butter mixture and mix just until incorporated.
5. Add vanilla extract and combine until just incorporated.
6. Divide dough in half and roll into two logs, 1 1/2 inches thick. Wrap in plastic wrap. Chill in refrigerator until firm, about 1 to 2 hours.
7. Once dough is chilled, cut into 1/4 inch thick slices. Place on prepared baking sheets, spacing the cookies two inches apart.
8. Bake in the center of the oven until edges are lightly golden, about 25 to 30 minutes.
9. Cool on baking sheet on a wire rack, about 10 minutes. Transfer to wire racks to cool completely. Store in an airtight container. Makes about 20 cookies.