Cod Tongue Croquettes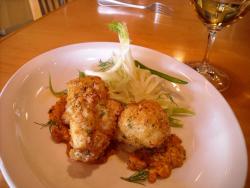 Chef Glen "Skip" Sansome of Petit Bill's Bistro finds this dish is the perfect meld of "Newfy" and French cuisine. Instead of serving the cod tongue in the traditional way (skin on and fried in butter), Sansome incorporates the meat with seasonings, breading lightly in a herbed panko mixture and serves them with dill, fennel and a Romesco sauce. Absolutely delicious.
Romesco Sauce
2 large tbsp. garlic puree
4 roasted red peppers (seeded and not peeled)
1/4 baguette cubed
1/3 cup 2% milk
1 heaping tbsp. paprika
1 tbsp. olive oil
1 heaping tbsp. sambal
1/4 cup red wine vinegar
Soak bread in milk. Add all ingredients to a food processor and puree. Set aside.
Croquettes
4 lbs. cod tongue (blanched and skin removed)
1 bulb shaved fennel
1 bunch green onion, chopped
8 heaping tbsp. mayonnaise
salt to taste
12 large pinches mustard powder
2 eggs
4 shots Tobasco
4 shots Worcestershire sauce
Break up tongue meat in a food processor. In a large bowl, mix meat and remaining ingredients except fennel) together. Thicken with panko bread crumbs, if needed.
Form meat mixture into small croquette rolls.
"Batter"
Note that dredge mixture is approximate, depending on how many croquettes you make. You may increase or decrease ingredients in proportion if needed.
2 cups panko
1/2 leek (white part) very finely chopped
1/4 cup fresh tarragon
1/4 cup fresh dill
Mix together fresh tarragon, chopped leek, fresh dill and panko bread crumbs. Dredge croquettes in the herb and panko mixture. Drop croquettes into oil heated in deep fryer. Cook until crisp and golden brown. Remove and drain on paper towels.
Place some Romesco sauce on a plate, add croquettes, and dress plate with shaved fennel. Enjoy!