Thimble Cakes' Chocolate Stout Cupcakes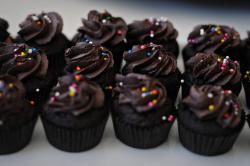 A delightful twist on the traditional chocolate cupcake. This cake, from Thimble Cakes chef Wendy vanVelthoven has a gorgeous crumb!
Mix the following together:
¾ cup coconut milk
2 ¼ cup water
4 teaspoons apple cider vinegar
1 cup stout (we like St. Ambroise Oatmeal Stout)
3 cups sugar
1 1/3 cup oil
Beat super well!
Sift in the following:
4 cups flour
1 1/3 cup dark (alkalized)** cocoa powder
1/2 cup light (non-alkalized)** cocoa powder
2 teaspoons baking soda
2 teaspoons baking powder
1 teaspoon salt
Mix well, 2 minutes! It can take it!
Fill liners 2/3 full. Bake at 350 for 19 minutes large cupcakes, 9 minutes mini cupcakes.
**Note that the difference between alkalized and non-alkalized cocoa powder is important for the leavening action of the baking powder in the recipe. For more information on this interesting food chemistry, follow this link.