Cajun Smothered Chicken Sandwich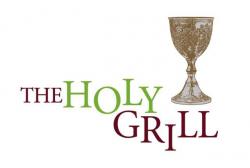 Aaron Laforest and Derrick Cvitkovich of The Holy Grill in Daegu, South Korea offer us this "comfort food" sandwich that has the ex-pats feeling like they're home, and the local Koreans going nuts.
NOTE: You may want to have a cardiologist with you when you eat this sandwich.
Ingredients
6 large chicken breasts
6 strips of bacon
1 large red onion
3 bell peppers (different colours, if possible)
8 or 10 button mushrooms
2 cloves of garlic
3 tablespoons cream cheese
3 thick slices of monterey or pepper jack cheese
1 teaspoon of cajun seasoning
1/2 teaspoon of salt
1/2 teaspoon of cracked pepper
6 6-inch baguette rolls
Parmesan Ranch Dressing
1 cup mayonnaise
1 cup sour cream
1 tablespoon of chopped chives
1/4 teaspoon of garlic powder
1/4 teaspoon of onion powder
1/4 teaspoon of salt
1/4 teaspoon of black pepper
2 tablespoons parmesan powder
Cook the bacon in a large skillet until crispy. Be sure not to remove the grease. While the bacon is cooking, slice the chicken into 2-3 cm pieces, slice (not dice) the onion and peppers into long pieces, quarter the mushrooms, mince the garlic and cube the jack cheese.
Lower the heat, remove the bacon and crumble it up. Leave some of the bacon grease in the skillet. Turn the heat back up and toss in the chicken, onions, peppers, mushrooms and bacon. Reserve the garlic. Add the salt, pepper and half of the cajun seasoning. Stirring constantly, when the chicken is almost cooked through, add the garlic. Lower the heat to medium and add the cream cheese and cubed jack cheese. Stir the whole thing together until the cheese is melting, and mix in well. Have a taste, and sprinkle in the remaining cajun seasoning if desired.
Along the side, slice the baguettes 90% of the way through and toast or warm them for a bit. Open up the baguette without ripping through, take a big scoop or two of the goodness in your skillet, and slather it on. Don't be shy, there's plenty here.
Mix the dressing ingredients together, and drop a dollop on top of the sandwich. Bon Appetit!