Producer's Note: Back from Banff
Submitted by
Bonnie
on Fri, 06/17/2011 - 16:43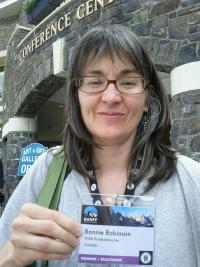 Well, I have returned from the beautiful town of Banff after attending the Banff World Media Festival, where Sweet Tarts Takeaway was nominated in the Entertainment Category of the Pilots Competition. Unfortunately, we did not win, but we met a lot of great people in the television/digital content industry. Just being nominated was a huge honour, and having my way paid into the conference was a prize in itself.
Jerome Bourgault (Dan) accompanied me for the first two days of schmoozing. We were awed by the stunning beauty of this lovely town nestled beside the majesty of the Rocky Mountains. Broadcasters and content producers from around the world were there, and we spoke to people from CBC, CTV, Corus, UKTV, Shaw Media, Funny or Die and My Damn Channel to name just a few.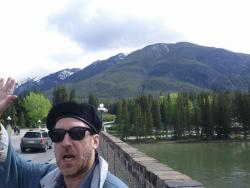 The Banff conference is overwhelming, especially for a "rookie in the Rockies". There are so many industry people, everyone is "taking meetings" and pitching their ideas. I'm the kind of person who likes to sit back and observe before plunging into things. By day 3 of the 4-day conference I felt less intimidated, and I was approaching people after sessions, asking questions, and telling them about STT.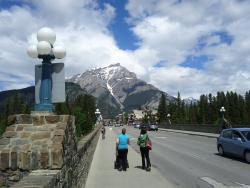 I attended many sessions, on all kinds of topics in the television/digital media industry. From how to sell to digital media advertisers, to an overview of the comedy industry, I learned a lot, and have a better handle on how the industry works. I went to special panels featuring coversations with James Burrows (Cheers, Will and Grace, etc.) and Ed Asner. But one of the best panels featured a "workshop" with Felicia Day, creator of the highly successful Web Series The Guild. Day was inspiring, with her strong vision of how she wants to create content for the web, and the ways in which she works with broadcasters and large corporations.
We hope to post Episode 6 sometime in the next week. We are planning a shoot as well, so things are busy.
Bonnie