Mango Bisque with Poppadom and Curry Chicken "Soup Shooter"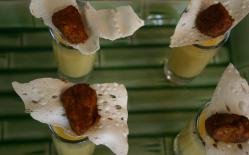 When the Tarts are looking for something hot and spicy, and a little bit enticing, they find Mango Bisque with Poppadom and Curry Chicken Soup served in shooter glasses hits the spot. From the kitchen of Jason Laurin at Essence Catering, this is a delicious soup, served with fun.
Mango Bisque
1l Ceres brand mango juice
2 Atulfa Mangos, peeled, pitted and rough chopped
1" piece of ginger, minced
1 clove garlic, minced
1 small jalapeno, minced
2 tbsp mirin cooking wine
1 tsp sriracha chili sauce
1 cup 35% cream
Place all ingredients except cream in a container, and blitz with an immersion blender. Alternately, you can place the ingredients in a blender and blend until smooth. Add cream, and continue to mix. If the soup is too thin, add a little more cream to adjust the consistency.
Curry Chicken bite
Cut 2 chicken breasts into 1" cubes and coat with curry spice (can be commercial, or the one listed below)
Saute in a non stick pan in 1tbsp oil over medium-high heat.
Curry Spice
5 tbsp ground coriander
3 tbsp ground cumin
2 tbsp turneric
2 tsp ground ginger
2 tsp dry mustard
2 tsp ground black mustard seed
2 tsp ground fenugreek seeds
2 tsp ground black pepper
1 tsp ground cinnamon
1/2 tsp ground cloves
1/2 tsp ground cardamom
1/2 tsp chili powder
Combine and store in an air-tight container.
Poppadoms
Purchase ready-to-fry poppadoms from your local Middle Eastern/Indian grocer. Fry in hot oil as per directions. Break into pieces that are bigger than the chicken bites.
NOTE: Bonnie doesn't like to fry things, and has always simply microwaved these "ready-to-fry" poppadoms. Place poppadom on a paper towel, and set in microwave. Microwave for 30-45 seconds, depending on your oven. She is not a chef, though, so use your judgement if you want to be faithful to the recipe.
Take 36 shot glasses and fill 3/4 full with mango bisque. Top each one with a pappadom and place curry chicken on top. Serve immediately.