Chocolate Chili Cookies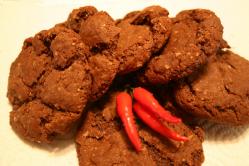 These cookies, from Brad Campeau at B. Goods Cookies, have a rich chocolate flavour, with an undertone of spice that doesn't dominate the chocolate, but it adds a bit of sharpness to it. And, they're VEGAN!


Ingredients
2 cups earth balance (non-dairy butter)
4 cups organic cane sugar
2 tsp baking soda
1 tsp finely ground chilies (ancho)
1/2 tsp Hungarian hot paprika
Pinch of ground black pepper
1 1/3 cups cocoa powder (22-24% fat)
2 tbsp vanilla
4 tbsp water
2 1/4 cups whole wheat pastry flour
Cream together all ingredients except the flour.
Add the flour until all flour is mixed in. (Don't worry if the batter is slightly dry.)
Seperate into 55 gram portions.
Bake in a 340 degree oven for 20 minutes (315 degrees for 15 minutes for a convection oven).
The tops of the cookies should be slightly cracked.
This recipe makes 42.