Producer's Note: Busy, Busy, Busy
Submitted by
Bonnie
on Thu, 06/30/2011 - 10:40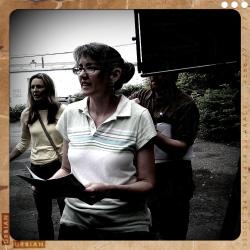 We have been very busy at Sweet Tarts Takeaway, having attended the Banff World Media Festival from 11-16 June, then arrived back in Ottawa to plan a three-day film shoot (which should have been four days), and then to shoot more STT adventures from 24-26 June.
We had a great time on set, shooting in several locations over the three days, including The Carleton Tavern, Glebe Fitness, and Cube Gallery. Why are the Tarts hanging around all these unusual places? Well, you'll just have to continue to check out the web site for upcoming episodes!
We are now scrambling to edit everything we shot because summer is upon us, and we need to take a holiday. After a long wait, Episode 6 will be available on the web site early next week. Please come back and check it out, to find out just why Bob wonders how flexible the Tarts are!!!
-Bonnie