Asia Barclay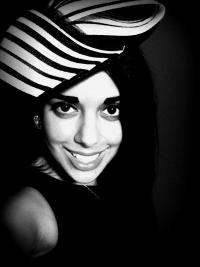 Asia stumbled into the world of fine arts as a young girl, participating in school plays, talent and fashion shows, musical performances, and dance competitions. Her biggest dream was to be a cast member of Pirates of the Caribbean, until she realized she may want to become a doctor instead.
One summer afternoon, her father suggested she "get [her] face out there," so she joined the Sweet Tarts Takeaway family on a whim, as the character "Alia". Asia had a fantastic experience on-set, and enjoyed herself so thoroughly that she hopes to expand on her acting endeavours in the near future.
Asia enjoys modelling, volunteering, laughing, writing, medicine, photography, painting, composing, and reading. She is currently completing her BA in International Development – Economics and Business Administration at the University of Guelph. When she's not away at university, Asia lives with her family and their many beloved pets in Ottawa, Ontario.
Asia appears as "Alia" in Episode 8.